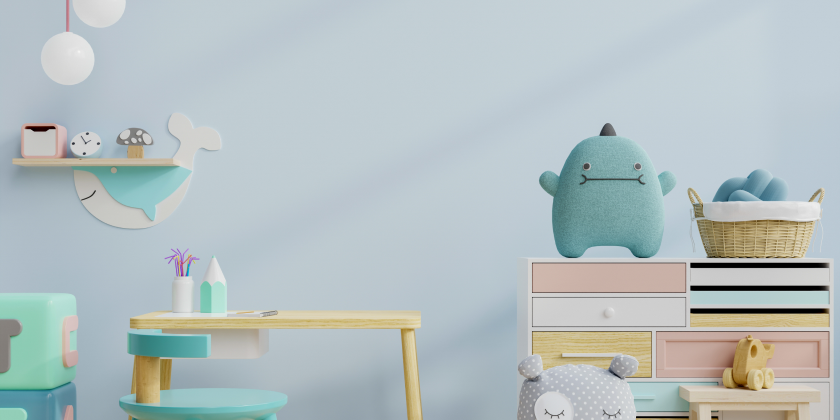 How to Create a Budget-friendly Nursery
If you're not sure where to start, take a look at these money-saving tips and savvy ideas for creating a nursery on a budget.
#1 Choosing convertible cribs

Convertible cribs may cost more than some regular models. But convertible cribs are totally worth the initial investment. Coupled with a few simple adjustments, convertible cribs are charming and a very toddler-friendly day bed. Add in a couple of spare parts, and what used to be a crib transforms into a full-seized adult bed. 
You'll be glad to know that some manufacturers include hardware and accessories that are necessary for conversion. Some will require you to buy additional pieces separately. So make sure you can factor in any extra costs up front. 

#2 Invest in wall decals and wall art
Wall decals and wall decor are popular choices for nurseries. Turning a photo into painting (of the pop art variety) is a wonderful way to personalize decor. And lucky you, Snappy Canvas can help you do just that.
Kids need to be surrounded by educational things (healthy brain and cognitive stimulation), in addition to colors that attract the eye and fuel imagination. Calming wall art or purchasing children's wall decor is a great idea to kick things off.


#3 Forego the changing tables
It's tempting to purchase changing tables for your little bundle of joy. But changing tables are not a must-have for nurseries. They quickly outgrow their usefulness -- if they're even used at all, that is. Lots of babies sleep in mom and dad's room for the first couple of months. And when babies are capable of rolling, we'd bet you'd be more comfortable changing them on the clean floor.


#4 Get creative with paint and accessorize
Paint can be easily updated and for the most part, it's inexpensive. They're a great alternative to costly wall treatments. Plus, paint fuels creativity -- especially when you use it in fun and unexpected ways. 
Don't hesitate to add some drama to your design by painting the ceiling. This is your opportunity to introduce lots of color too, by painting the inside of your bookshelves or window frames.
You can even create elaborate patterns with masking tapes and stencils. It's going to be hard work, but the results are totally worth looking at. Not to mention your savings.
And when we say accessorize, we mean try out DIY crafts. You can make your own stunning accessories at the fraction of the cost of store-bought decor.

#5 Refrain from buying baby bedding
Crib beddings are a hack. Some sets can reach costs of $200 and upward. That's more than enough to buy a whole crib! These pricey sets may be pretty to look at, but they're actually hazardous to the baby's health.
Sure, they're popular and available anywhere. But crib blankets, bumpers, and pillows pose suffocation risks. That's why they should never be used in a crib.
All your baby needs is a firm, well-fitting mattress. That's according to the American Academy of Pediatrics. 
Couple that mattress with waterproof covers, and changes of sheets. And as for keeping your bundle of joy warm, safety-approved swaddle wrap or sleep sacks are more than enough to keep them warm.

#6 Do eclectic interior style well
Are you cobbling a nursery piece by piece? If you are, that sounds great!
What's great about eclectic interior styles is that they have tons of character. It's great fun to pick up unique second-hand pieces. Apart from saving money, it's really crucial to establish a sense of flow and continuity.
If you need some help creating some cohesive designs, there are some rules of mixing and matching furniture that you'll need to follow:


Welcome some contrast: Being dramatically different is better than not quite the same. It's really bad when something feels just slightly off. If you can't look for pieces that match, you're better off choosing something completely different and finding some other way to pull the entire look together. Contrasts create eye-catching drama.

Avoid the clutter: There's a narrow line between "eclectic" and then cluttered. A nursery must be cozy and lived-in, not claustrophobic. Avoid going nuts with the flea market finds. Opt for a few interesting pieces that blend well instead of filling up the nursery with unnecessary furniture.

Go for the understated approach: If being eclectic is not your cup of tea, do your best to downplay differences by picking simple and understated furnishings with clean lines and light finishes.

Be Resourceful with Decor

Before you go over to your local baby-mart, make sure you already have a list of what you already have, and which items you're looking to buy for affordable prices. 
Keep it simple and drench the room with love and creativity. Creating a simple nursery that baby will enjoy doesn't have to cost you a million bucks.