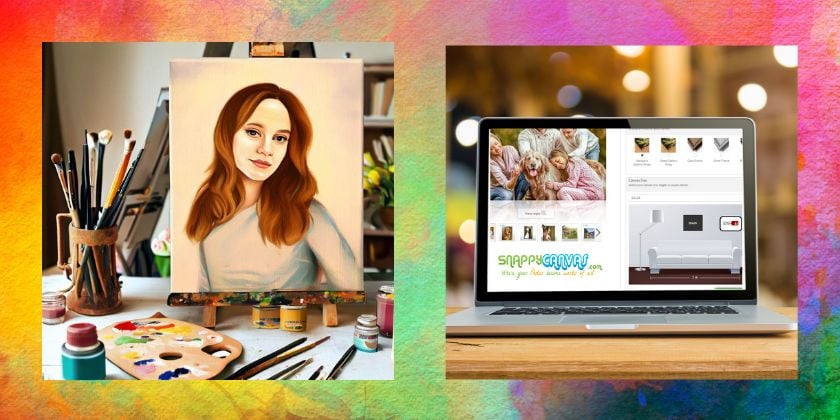 This blog post is a complete guide to painting portraits for beginners. It covers essential materials and tools, sketching techniques, painting tips, and finishing touches. The post also provides an option for those who don't have the time or confidence to paint their own portrait, including ordering a custom portrait online through SnappyCanvas. Additionally, it includes information on how to get duplicate copies of a portrait painting using SnappyCanvas. Whether you're an aspiring artist or looking for a unique and personalized gift, this guide has everything you need to create a beautiful portrait.

Introduction: Painting portraits is an art that has fascinated artists for centuries. Portraits capture the essence and personality of a person, and they can be a beautiful way to preserve memories and emotions. Whether you're a beginner artist or prefer to order your portrait online, this guide will provide you with tips and techniques for creating stunning portraits that you'll cherish for years to come.
Section 1: Materials and Tools To start painting portraits, you'll need some basic materials and tools. Here are the essentials you'll need:
Paints: You can use acrylics, oils, or watercolors depending on your preference.

Brushes: A variety of brushes in different sizes and shapes will come in handy for painting different areas of the portrait.

Canvas: Choose a canvas size that works for your painting and your budget.

Easel: An easel will help you set up your painting surface at a comfortable height.

Palette: A palette is where you'll mix your paints.

Reference photo: Choose a clear reference photo that you'll use to guide your painting.
Section 2: Sketching the Portrait Before you start painting, you'll need to sketch the portrait on your canvas. Use a light pencil and take your time to get the proportions right. Here are some tips:
Use a grid: A grid can help you transfer the reference photo onto the canvas accurately.

Start with the big shapes: Draw the outline of the head, neck, and shoulders before moving on to the details.

Measure carefully: Use your pencil to measure the distance between features, angles, and curves.
Section 3: Painting the Portrait Now it's time to paint! Here are some tips and techniques for painting portraits:
Work from big to small: Start with the big shapes and work your way to the details.

Mix colors: Experiment with mixing colors to get the right skin tones and shades.

Use thin layers: Build up the painting with thin layers of paint, allowing each layer to dry before adding the next.

Focus on the eyes: The eyes are the focal point of the portrait, so spend extra time and care to get them right.

Don't overwork: Overworking the painting can lead to muddy colors and loss of details.
Section 4: Finishing the Portrait Once you've painted the portrait, you'll need to add the finishing touches. Here are some ideas:
Sign your painting: Add your signature to the bottom of the painting.

Varnish the painting: Varnishing the painting will protect it from dust and fading.

Frame the painting: A frame can add a professional touch to your painting and protect it from damage.
Section 5: Order Your Portrait Online If you don't have the time or confidence to paint your own portrait, don't worry! There are many online services that can create a beautiful portrait for you. Ordering your portrait online has several advantages:
Expert artists: Online services like SnappyCanvas have experienced artists who can create a portrait that captures the essence and personality of the subject.

Customizable options: You can choose the size, medium, and style of your portrait to fit your preferences and budget.

Convenient and time-saving: You don't have to spend hours sketching and painting your own portrait. Ordering online is a convenient and time-saving option.

Perfect for gifts: A custom portrait makes a thoughtful and personalized gift for a loved one or special occasion.
When you order your portrait through SnappyCanvas, you can choose from a variety of mediums including oil, acrylic, charcoal, and watercolor. You can also customize size and style.