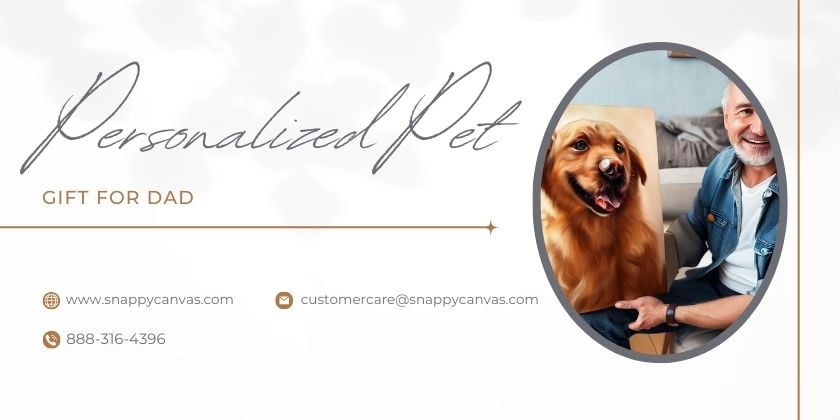 Surprise your dog-loving dad with a personalized dog portrait painting this Father's Day. Capture the unique bond he shares with his furry friend in a timeless piece of artwork that will warm his heart.
Celebrate Father's Day with a Timeless Tribute: The Dog Portrait Painting Gift
Father's Day is just around the corner, and you're probably searching for the perfect gift to show your dad how much you appreciate him. If your dad is a dog lover, then a dog portrait painting is the ideal present that combines his love for dogs with a personalized touch. Whether it's a portrait of his beloved furry friend or a sentimental piece that captures the bond between him and his pet, a dog portrait painting is a unique and heartfelt gift that will leave a lasting impression.
Personalized Artwork that Celebrates His Love for Dogs
One of the main reasons why a dog portrait painting makes an exceptional Father's Day gift is its personal touch. Every dog owner shares a unique and special bond with their four-legged companion, and a portrait painting can immortalize that bond in a stunning piece of artwork. It not only showcases your dad's love for his dog but also demonstrates your understanding of his passion.
A dog portrait painting can be customized to capture the unique personality and characteristics of your dad's beloved pet. From the wagging tail to the soulful eyes, every detail can be meticulously painted to ensure a realistic and captivating representation. Whether it's a playful puppy or a wise old friend, the artist can capture the essence of the dog, evoking emotions and memories that will be cherished for years to come.
Timeless and Lasting Gift
Unlike many other gifts that may lose their charm over time, a dog portrait painting is a timeless keepsake. It will continue to evoke warm memories and emotions for your dad, even as years go by. The beauty of a painting lies in its ability to capture a moment frozen in time, preserving the joy and love shared between your dad and his furry companion.
Not only does a dog portrait painting hold sentimental value, but it also serves as a stunning piece of artwork that can be proudly displayed in your dad's home or office. Each time he looks at it, he'll be reminded of the unconditional love and loyalty his furry friend provides. It's a beautiful addition to any living space and serves as a conversation starter, allowing your dad to share stories and anecdotes about his furry companion with family and friends.
Personalized dog gifts for dad
Unique and Thoughtful Gesture
In a sea of generic gifts, a dog portrait painting stands out as a truly unique and thoughtful gesture. It shows that you've put time and effort into selecting a gift that aligns with your dad's passion and brings joy to his heart. The personalized nature of a dog portrait painting conveys a deep understanding of your dad's love for his pet and creates a memorable Father's Day experience.
A dog portrait painting can be commissioned from a skilled artist who specializes in capturing the essence of animals. You can choose from different styles, such as realistic, impressionistic, or even pop art, based on your dad's preferences and the overall aesthetic he appreciates. The artist can work from a favorite photograph or create a composite piece that showcases different moments and aspects of your dad's relationship with his furry friend.
Preserving dog memories through father's day gift
This Father's Day, surprise your dad with a dog portrait painting that celebrates his love for dogs and immortalizes the bond he shares with his furry companion. It's a personalized and heartfelt gift that will bring joy and warmth to his heart. With its timeless appeal and unique nature, a dog portrait painting is sure to become a cherished keepsake that reminds your dad of the unconditional love and loyalty he receives from his beloved pet.