Made from your most special snapshots.
A Portrait painting from your photo to your walls
If you want an artistic piece of art that can beautify the walls of your home, you can opt for a photo to painting. By turning dear pictures into painting, you can have a remarkable piece of art in your home or the home of your most beloved ones.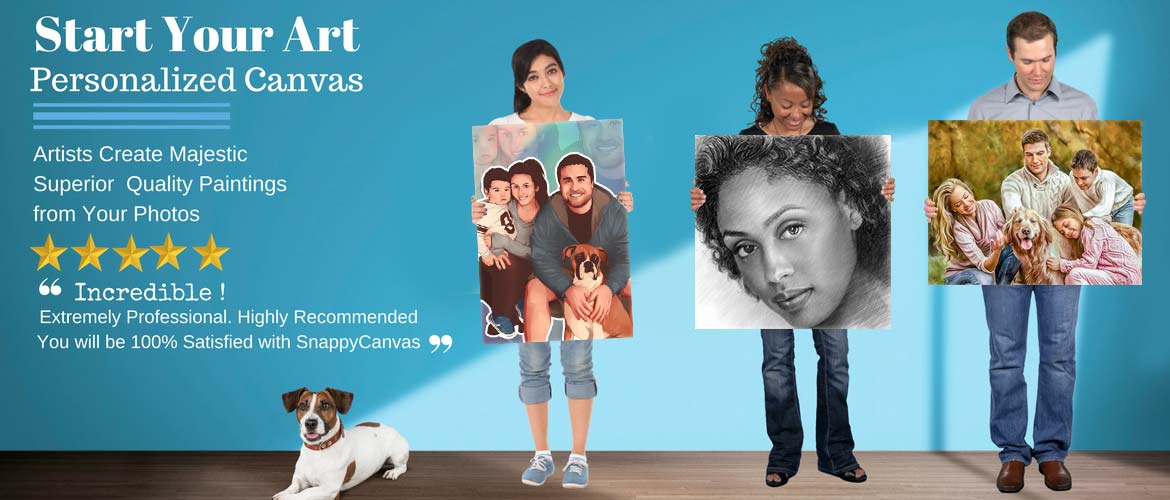 How can you convert a picture into a painting?
If you want a professional picture to painting, Snappy Canvas artists and support can help you with the most beautiful creations among available photo to painting online services . You can choose from different styles of paintings, and how you want to turn your picture to a painting. If you were searching the web for the words paint my photo, then you have definitely come to the right place. Through hand painting techniques using both traditional and digital, your picture to painting will astound with attention bringing together the best of classic and modern.


Quality Portrait Painting Service

It's simple! You decide your favorite photos, and you send them to snappycanvas.com. From there, our picture painters will apply their talent to convert photo to canvas painting, creating a handsome handcrafted work of art!



Think about that this a unique painting, uncomparable with a ready made canvas or other non personal painting. The sentimental value is incommensurable.

We are happy to create memorable handmade gifts out of your photos using digital and hand painting techniques.


Paint a Portrait from a Photo with portrait Artists

A photo into painting will be an eternal memory; that can remember y periods of your life, people you love, landscapes you like, flowers that cheer you up, or notable quotes that inspire you every day. A picture turned into a painting will last a lifetime, and you can purchase it from snappycanvas.com. As you can see we have a multitude of options to create paintings from your life, including oil painting, watercolor painting, pop art paintings, and much much more! Instead of going through a time consuming and grueling process of using a search engine to find an artist near me, you can visit our site from anywhere in the world to have your custom picture painting made by our picture painter artists and shipped to you through our reknowned portrait painting service.


You will get free shipping if your order is over 99$. If you want to ask us anything, we are here to answer with details.