PET PENCIL PORTRAITS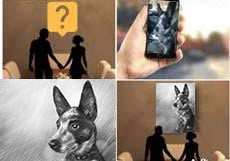 Our pet sketch Artists understand that your pets are an important part of your life and take delicate care to in making your personalized pencil style sketch. We also believe in creating high quality work and without sacrificing on materials. Whether it is 5 years from now or 75 years, we want you to be able to look back and view your pencil pet portrait in admiration. Get a custom pencil portrait of your pet! These handcrafted portraits are the perfect way to immortalize your beloved furry friend. Get yours today! 

Cherish the memory of your beloved pet forever with a custom-crafted pencil portrait! Get the perfect gift for any animal lover - a detailed and intricately rendered pencil portrait of your pet that captures their unique character and personality. 
Showcase your pet's unique personality with a canvas Pencil Sketch of their portrait! A skilled artist will have your pet sketched on a durable premium poly cotton canvas, perfectly capturing every trait of their character. It'll be shipped to you in sturdy packaging so that it arrives in perfect condition via a protective shipping box so that it arrives safe and secure.