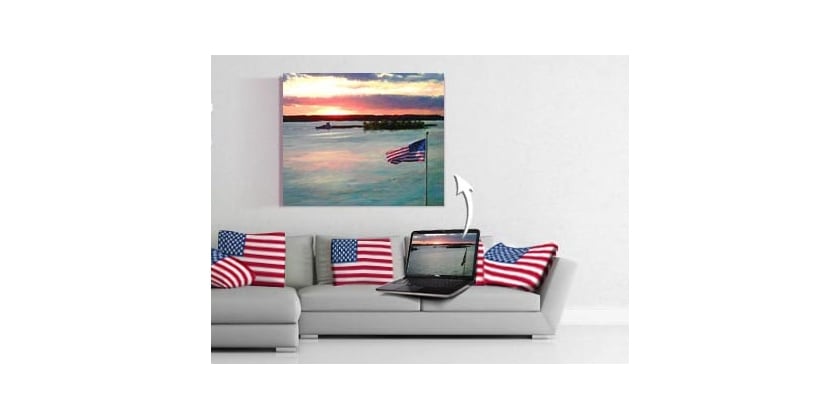 The new technology has given photography not just a twist but a new approach. With the advent of the digital camera, taking pictures has never been this easy while producing the finest quality of the photos. A few years back, we contained ourselves with simply taking photos and keeping them in the photo albums. Then, whenever we want to reminisce the moments, we just open the albums and take a look at them.
At present, aside from the way how we take photos, the way of saving them has also changed in the best way possible. With the help of personal computers and flash drives we can save them and even bring them with us anywhere. At the same time, we can have multiple copies of them and share copies with other people like our friends and relatives. But most of all, the best thing that the new technology and digital photography have given mankind is the chance to turn photos, even the old ones into modern-day interior decorations.
Canvas photo is an artwork that looks like a painting that we often see in galleries and art museums. This is the result of transforming a photo into a canvas through the printing process and with the use of a high-quality ink. This allows a digitally taken photo to be made as an artwork that can be one of the best interior decorations at homes and offices.Canvas photos are increasingly becoming more popular each day. It gives any room a unique and more personalized look.
Given that one chooses his own photo and transforms it into an artwork, there is no worry of having a duplicate, unless one intended to have so. Canvas printing allows people to print their candid shots, photos during special events, occasions, and even just a personal portrait. Moreover, when it comes to preserving photos for a lifetime, canvas photos is the best platform. Having photos printed on a canvas and hanging them on walls, with a guarantee that it will last for a long time without fading and tearing apart is the best way to reminisce a moment everyday. Imagine waking up in the morning and seeing on your wall an artwork of your wedding day. This would remind you of a life that you have to share with your partner, as well as your love for each other.
Photos are an important part of people's lives. It allows them to recall moments and times that will always be in their hearts forever. And with canvas photos, there is now a reason why memories should never be forgotten. After all, every photo deserves a place where it should be. And special moments often happen candidly. Thus, having the chance to capture and preserve them would bring so much happiness to the person. Moreover, even old photographs can now be remembered in a modern-way by simply transforming them into a canvas photo. With canvas photos, bridging the gap between the past and present is possible, and it stays the same until the future.